Okay, there are 4 basic things you can create in the annotation panel. They are available at different times and under different conditions. Most items also enable you to decide if your item is for public viewing or limited to yourself or a group. (We'll discuss groups more fully soon.) Also, you can add tags to your annotations for classification and search purposes.
Page notes

If you do not have text or anything selected on the web page you are viewing then you can create a page note. This type of annotation is usually used to make notes about the entire page that don't necessarily relate to individual things on that page. Use the "New Page Note" button. Page notes, yours and other people's, will be shown in the page notes area of the panel. Page notes default to Public, but you can change it.
Highlights

A highlight, as the name suggests, is a highlight with no associated annotation. Basically it is a digital highlighter pen. You must select some text first and then press the highlight button in the little two button pop-up that appears once you have selected text on the page. Highlights default to a "You only" view, but they are changeable. However, they don't really give anyone an indication of why you highlighted it without some sort of annotation.
Annotations
Annotations are written comments about a selected area of the page. When you have text selected you can press the annotation button from either the little two-button pop-up or from the panel buttons. (Once you select text the Page notes button switches out to the Annotate button.) As with the highlight tool, text selected for annotation will also appear highlighted. There is some limited formatting available for your annotations. Annotations default to Public, but you can change the view level to "Only you" or a group if you are a group member.
Replies
Replies are pretty much what they sound like and work like many other social-oriented tools, for example when you need to correct someone who is just plain wrong when you want to contribute to a dialogue on the subject. You reply using the reply button in the annotation that you are responding to.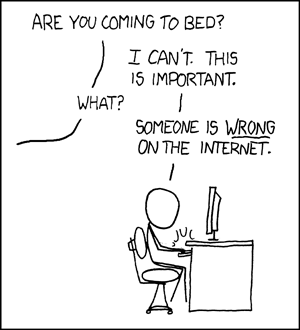 PDF Annotations
It is worth noting that you can also annotate PDFs as long as you are viewing/annotating the pdf in a web browser.
Sources
https://hypothes.is/blog/varieties-of-hypothesis-annotations-and-their-uses/
Title image: Mennonite Church USA Archives
Webcomic: xkcd: A webcomic of romance, sarcasm, math and Language, https://xkcd.com/386/